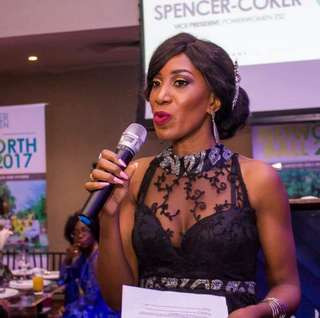 Nicky Spencer-Coker – Capital's Longest Serving Presenter
Nicky was part of the original team of Capital Radio broadcasters who gathered at the Offices of Transnational Ltd in Wilkinson Road in 2006 for a training course on radio techniques.
This was in preparation for the launch of Capital Radio scheduled for July of that year. Nicky had lived both in the UK and the USA and has a very positive and forthright style. She was entertaining and fun to listen to. She was allocated to the Saturday Breakfast Show and she has presented the programme ever since.
Nicky Spencer-Coker is a busy full time lawyer – Barrister and Solicitor – and was previously a State Prosecutor with the Ministry of Justice. Currently Nicky serves as Defence Counsel on the Sierra Leone Legal Aid Board. She is married with a husband and two lovely daughters so a single weekend Show was more than enough to manage. Nicky follows the beliefs of John Reith (Lord Reith) the founder of the BBC in Britain and believes that the popular programme that she produces and Presents each Saturday ought to contain an element of education, information and entertainment. Nicky includes all of those elements in her weekly production from 'Word of The Week', to an interview with a noteworthy individual each week, to the popular music she streams on her Show. Outside of broadcasting she continues to hold the microphone as a professional compere for numerous events both entertainment and charitable.
As you would expect from such an energetic and highly motivated woman, Nicky Spencer-Coker supports the world-wide movement for the empowerment of women and girls.